If you are looking for a cough syrup in Pakistan, this article will help you choose. Below we have given a list of cough syrups along with their pictures, prices, and other details. Keep reading to learn more.
What is Cough?
A cough is the body's natural way to expel irritants, foreign particles, or mucus from your system. While coughing is normal, it can signify a potentially severe underlying condition if it lasts for an extended period of time.
There are two types of cough, acute cough and chronic cough. An acute cough is defined as a cough that lasts for less than three weeks, while a cough that lasts for more than eight weeks is considered a chronic cough.
Consult a doctor for the treatment of cough today! Use oladoc to consult top specialists near you by booking affordable and convenient online video consultations or in-person appointments in a matter of seconds.
Cough Syrup Uses
Some coughs can subside on their own without any treatment. However, if your cough becomes painful and persistent your doctor may recommend the use of a cough syrup temporarily to ease your symptoms.
Cough syrups are commonly indicated to suppress coughing caused by conditions like:
Cold
Allergies
Bronchitis
Emphysema
Asthma
It is important to note that OTC cough medicines should not be given to children younger than 4 years of age. This can lead to negative side effects according to the American Academy of Pediatrics.
List of the Best Cough Syrup in Pakistan
Following are the best cough syrups in Pakistan:
Acefyl syrup
Olcuf cough syrup
Arinac
Coferb Plus
Hydryllin Syrup
Corex-D
Pulmonol Cough Syrup
1. Acefyl Syrup
Acefyl syrup is a common cough syup in Pakistan that is widely available in medical stores and online. The main ingredients of acefyl syrup are Acefylline and Diphenhydramine.
Uses
It is used for the treatment of cough, flu, bronchitis, and emphysema.
Side effects
Side effects include nausea, dizziness, constipation, headache, fatigue, etc.
Price
Acefyl syrup is a product of Nabiqasim Industries and is available for the price of approximately Rs. 87 in its 125ml variant.
2. Olcuf Cough Syrup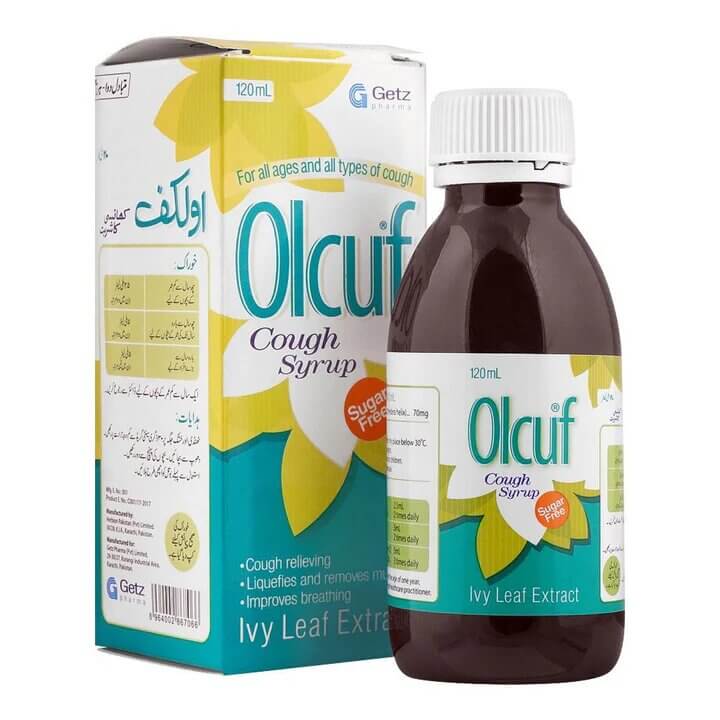 Uses
Its use is indicated in conditions like cough, bronchitis, throat irritation, and shortness of breath. It has a soothing effect on the throat, and reduces chest tightness while restoring normal breathing function.
Ingredients
Olcuf cough syrup is composed of natural ingredients like ivy leaf extract and is sugar-free.
Dosage
The recommended dosage of Olcuf is:
2.5mL, 2 times daily for children under 6 years of age
5mL, 2 times daily for children of 6-12 years of age
5mL, 3 times daily, for teenagers and adults
Side effects
However, you should first consult a doctor before using olcuf to avoid side effects. Possible side effects of this cough syrup include diarrhea, vomiting, nausea, and abdominal pain.
Price
Olcuf cough syrup is manufactured by Getz Pharma and is available in the form of a 120ml suspension for approximately Rs. 195 in Pakistan.
3. Arinac
Arinac is manufactured by Abbott Laboratories (Pakistan) Ltd.
Uses
Arinac is used to ease the symptoms of allergies, cold, and flu including cough, nasal congestion etc.
Ingredients
It is composed of Ibuprofen and Pseudoephedrine HCl as the main active ingredients.
Side effects
Its side effects include, headache, nausea, vomiting, diarrhea, constipation, and weakness. Its use is not recommended in pregnancy or while breastfeeding.
Dosage
The recommended dosage for Arinac is:
one tablespoon two to three times a day for children of 1-5 years of age
one tablespoon thrice a day for children 5-17 years of age
two to three tablespoons thrice a day for adults of 18-65 years of age.
Price
Arinac 120ml syrup is available for approximately Rs. 89 in Pakistan.
4. Coferb Plus
Coferb plus is a cough syrup manufactured by Hinucon.
Uses
It helps treat cough and improve breathing by thinning and clearing mucus from the chest.
Ingredients
The main ingredients of Coferb plus are ivy leaf extract with thyme and licorice.
Side effetcs
Possible side effects of using Coferb plus may include, dizziness, vomiting, itching, drowsiness, stomach pain, and breathing difficulties.
Price
The price of Coferb plus 120ml is around Rs. 280 in Pakistan.
5. Hydryllin Syrup
Uses
Hydryllin syrup is effective in suppressing cough and it is also used to treat asthma, wheezing, and shortness of breath. It is manufactured by Searle Pakistan.
Ingredients
Hydrallin syrup is composed of Aminophylline, Diphenhydramine Hcl, Ammonium Chloride and Menthol. Aminophylline as the active ingredients.
Side effects
Side effects of Hydrallin syrup include rash, nausea, vomiting, drowsines, and dizziness.
Price
Hydryllin 120ml syrup can be bought for around Rs. 69 in Pakistan.
6. Corex-D
Uses
Corex-D can provide releif from cough arising from infections like cold, flu, sinusitis, and bronchitis. It is manufactured by Pfizer.
Ingredients
Each 5ml of Corex-D contains Dextromethorphan 10mg, Chlophenaramine maleate 4mg, Ephedrine HCl 5mg, and Sodium citrate 150mg.
Side effects
Side effects of this syrup include drowsiness, increased heartbeat, and upset stomach.
Price
Corex-D 120ml syrup is available for approximately Rs. 82 in Pakistan.
7. Pulmonol Cough Syrup
Uses
Pumonol cough syrup is an antihistamine, manufactured by CCL Pharmaceuticals (Pvt) Ltd. which is effective in supressing cough and releiving symtpoms caused by various conditions including common cold, bronchitis, allergies like hay fever, etc.
Side effects
Side effects that you may experience upon consuimg this syrup are nausea, vomiting, rash, dizziness, heartburn, dehydration, difficulty breathing, etc.
Price
The price of Pumonol 120ml cough syrup in Pakistan is around Rs. 95.
Conclusion
Although cough syrups are effective eliminating mucus and releiving the symptoms of conditions that can cause cough, throat irritation and breathing difficulties, they should be used with caution.
Refer to a general physician in Lahore through oladoc.com to find out if you really need a cough syrup and which of them is right for you.
Follow the recommended dosage and instructions of your medical practitioner when consuming cough syrups to avoid side effects and severe health complications.
Disclaimer: The contents of this article are intended to raise awareness about common health issues and should not be viewed as sound medical advice for your specific condition. You should always consult with a licensed medical practitioner prior to following any suggestions outlined in this article or adopting any treatment protocol based on the contents of this article.