Neurology is the branch of science that deals with the disorders of the nervous system. Neurology deals with the treatment, diagnosis, and rehabilitation of conditions involving the central and peripheral nervous systems. A medical practitioner who specializes in the disorders affecting the brain, spinal cord, and nerve cells and muscles is called a neurologist. For your knowledge, we have listed the top 5 neurologists in Multan based on internet search by users in the city.
These medical professionals are trained to treat neurological conditions. Some of these include weakness in muscles, dizzy feeling, changes in sense of touch, and problems with coordination.
Other problems for which you might need to see a neurologist are problems with other senses as they can be onset by nerve issues; epilepsy; multiple sclerosis; neurodegenerative disorders; migraines and neurological procedures
Neurological Procedures
Neurologists commonly perform an examination at the first visit which checks muscle coordination and strength. To make a proper diagnosis, doctors can perform more than one examination depending on the nature of the disorder.
One common procedure a neurologist uses is a lumbar puncture. This is used to examine spinal fluid. This involves numbing the spine of the patient and placing a needle in it and extracting spinal fluid.
Tensilon test is another procedure that is used to diagnose the myasthenia gravis condition. This process consists of an injection that is filled with Tensilon medicine which is inserted into the patient. Neurologists then see how this medicine influences your muscles to make a diagnosis.
One of the better neurological procedures is an EMG or Electromyography. This basically calculates the electrical activity between the brain and spine to a nerve. This nerve is peripheral and is found in the limbs. Its job is to look after muscle control.
EMGs are effective in helping neurologists diagnose spinal diseases along with other diseases that are linked to nerve damage or dysfunction.
The process is characterised by an insertion of electrodes in the muscles which help read the activity levels during periods of rest or movement. These are recorded by an attached machine.
This process takes around an hour to complete on average. It is advised to keep away from nicotine and caffeine consumption about seven or eight hours before your EMG as these substances can impact the test results.
In addition to this, your doctor can also caution to avoid non-steroidal anti-inflammatory drugs (NSAID) before the exam.
Electroencephalography (EEG)
An EEG is similar to an EMG except that the electrodes are attached to the scalp to measure the electrical activity happening in the brain. It's helpful in diagnosing problems like tumors, seizures, inflammation, and psychological disorders.
Similar to an EMG, the neurologist can ask you to avoid the consumption of certain substances. This process also takes about an hour. At times, EEG might be done while the patient is asleep. Like an EMG, you'll need to avoid stimulants the day prior to the test.
Now, let's take a look at the top 5 neurologists in Multan who can help you better understand all of the above information:

1- Dr. Sohaib Hassan
Dr. Sohaib Hassan is one of the best Neurologists in Multan. He has done M.B.B.S from Nishtar Medical University, Pakistan in 2008 and F.C.P.S from College of Physicians & Surgeons Pakistan (CPSP), Pakistan 2017. He has 15 years of experience in his field. He practices at Khan Medical City, Multan.
2- Dr. Jibran Akram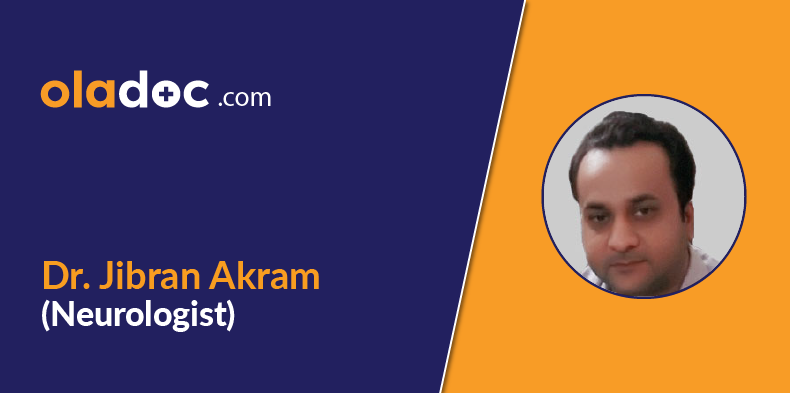 Dr. Jibran Akram is one of the leading Neurologists in Multan. He completed his MBBS in 2010, DCN (London) from the University Of England, in 2014 and PGD in Public Health in 2015. He offers a variety of services include; Headache, Migraine, Paralysis, Brain Injury, and Brain Tumor. He practices at Haleema Hospital Complex, Multan.
3- Dr. Amjad Ali Sheikh
Dr. Amjad Ali Sheikh is a highly qualified Neurologist in Multan. He has done M.B.B.S from Baha Uddin Zakariya University, Pakistan in 1992, F.C.P.S, M.C.P.S and specializes in Neurology and Internal Medicine Specialty. He practices at Navid e Shifa Clinic, Multan. You can book a hassle-free appointment with him via oladoc.com!

4- Dr. Ubaid Ullah
Dr. Ubaid Ullah is one of the finest Neurologists practicing in Multan. He completed his graduation from Punjab Medical College, Pakistan in 2012 and has done F.C.P.S from KMU Institute of Medical Sciences, Pakistan in 2018. He offers a variety of neurological services and also teaches at Ibn e Seena Hospital, Multan as an Assistant Professor. He currently practices in Fatima Medical Centre, Multan.
5- Dr. Meer Wasiq
Dr. Meer Wasiq is a Neurologist practicing in Multan. He has the following degrees: MBBS, FCPS in Neurology and has 5 years of experience. He offers a wide range of services including;
Stress Headaches
Cerebral Abscess
Learning Disability
Brainstem Death
Cluster Headaches
He practices at Al-Khaliq Hospital, Multan.
You can find and book an appointment with the best Neurologist in Multan, Karachi, and Islamabad through oladoc.com. You can review the Neurologists profiles and search for a Specialist by Locality and Gender as well. In addition, you can check for a doctor's practice locations, schedules and even book an appointment online. You can also call our helpline at 042-3890-0939 for assistance to find the RIGHT Doctor for your health concerns.
Also, for your knowledge, this listing of the top 5 neurologists in Multan has been compiled in an unbiased manner and in accordance with the ratings provided by users of the oladoc.com platform.

Disclaimer: The contents of this article are intended to raise awareness about common health issues and should not be viewed as sound medical advice for your specific condition. You should always consult with a licensed medical practitioner prior to following any suggestions outlined in this article or adopting any treatment protocol based on the contents of this article.