Medical eye specialist can be broadly categorized in two categories; Optometrist and Ophthalmologist. The former deals with vision care and performs diagnosis and treatment of the issues pertaining to vision. The latter provides with eye and vision care both and thus has proficiency in wider range of diseases.
More precisely, Ophthalmologists are trained specialists provide total eye care—in terms of vision services, vision correction, squints, visual pathways etc. They can also prescribe eyeglasses and contact lenses to their patients.
Furthermore, Ophthalmologists treat a range of eye diseases like glaucoma, iritis etc. Moreover, they can perform surgeries on the eyes as well. Common surgical treatments include cataracts, crossed eyes etc.
If you are experiencing any issues with your eyes or vision, you should schedule a visit to the doctor. Moreover, patients suffering from diseases like diabetes are more prone to having eye-problems. Hence, to ensure minimum damage to their eyes, such patients should immediately consult a doctor. If do not already have one and are in search for the best eye-specialist out there, then here are the top 5 ophthalmologists in Islamabad based on internet search by users in Islamabad:
1- Lt. Col. (R) Dr. Shahzad Saeed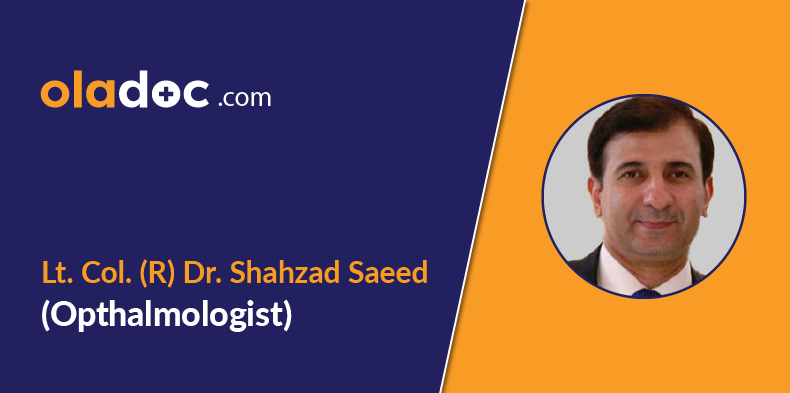 Dr. Shahzad Saeed has over 25 years of experience in the field of ophthalmology. His area of expertise includes vitreo-retinal surgery, corneal transplant, retinal detachment and glaucoma treatment. He is one of the most qualified eye surgeons in the city, with double fellowship (FCPS), and an MCPS degree.
He also routinely performs ocular aesthetic procedures like under-eye bag correction, eyelid lift and LASIK. He also offers treatments for conditions like diabetic retinopathy, red eye, squint, macular hole, retinal detachment amongst others. Surgical procedures conducted by Dr. Shahzad Saeed include glaucoma surgery, corneal transplant, laser cataract surgery alongside many others.
Furthermore, Dr. Saeed has served as a consultant all over the country, including CMH, Quetta, CMH, Kharian and Armed Forces Institute of Ophthalmology. His vast experience and excellent patients reviews has made up amongst the top 5 Ophthalmologists In Islamabad. He can be reached at Islamabad Eye Center, blue area, for appointment, or at oladoc.com.
2- Dr. Atif Bashir Chohan
Dr. Atif Bashir Chohan is a renowned name in ophthalmology. He has been a practicing specialist for 23 years now. He holds the following degrees: MBBS, MRCO, MRCS and FRCS. His specializations include eye-surgery as well.
Dr. Chohan is highly skilled at dealing with chronic eye conditions like glaucoma and diabetic eye care. He is proficient at performing surgeries like corneal surgery, laser eye surgeries and Phaco cataract surgery. He can be reached for appointment at Chohan Eye Hospital, G-8 markaz.
3- Dr. Waqar Ahmad
Dr. Waqar Ahmad has been an eye surgeon for two decades and holds various degrees to his name: M.B.B.S., M.C.P.S, D.O.M.S. His extensive experience in ophthalmology and high-patient satisfaction rate makes him amongst the top 5 Ophthalmologists In Islamabad.
The services offered by Dr. Waqar Ahmad include cataract eye surgery, color blind test, diabetic eye care, red eye, dry eye and eye-allergies. He practices at Dr. Waqar Ahmad Clinic, Islamabad.
4- Dr. Muhammad Adnan
Dr. Muhammad Adnan is amongst the top 5 Ophthalmologists in Islamabad. He has degrees of MBBS and FCPS. He has 10 years of experience in this field, which has enabled him to hone his excellent interpersonal and communication skills. He treats his patients with the utmost patience and compassion. He currently practices in Islamabad International Hospital.
5- Dr. Ahmad Bin Nasir
Dr. Ahmad Bin Nasir is one of the leading Eye Specialist in Islamabad. He completed his graduation from Dow University in 2013. He has done his post graduation from College of Physicians and Surgeons Pakistan (CPSP) in 2016. He has 8 years of experience in his field. He is also a member of Pakistan Medical & Dental Council (PMDC).
Moreover, the specialties of Dr. Ahmad Bin Nasir include glaucoma surgery, cataract sugary, LASIK and Phaco cataract surgery. A reflection of Dr. Nasir's professionalism are the excellent reviews he has received. Patients have reported 100% satisfaction rate with the treatment of Dr. Ahmad Bin Nasir, thereby making him one of the top 5 Ophthalmologists in Islamabad. Currently, he is practicing at Samina medical center.
Eyes are very sensitive organ of the body. They are vital for the sense of sight. Several conditions and diseases can lead to their malfunctioning and consequently compromise the vision. In worst case, people can even lose their eye sight if they don't get timely medical aid or sustain any damage to their eyes.
Therefore, if you are having any issues with your vision or any discomfort, you should consult a doctor as soon as possible. No risks or negligence should be done in taking care of your eyes. You can book an appointment with other whomever you consider to be as the best ophthalmologist in Islamabad, Lahore and Karachi through oladoc.com, or call our helpline at 042-3890-0939 for assistance to find the RIGHT Doctor for your concerns.
Please be advised that the above list of the top 5 Ophthalmologists in Islamabad has been prepared in an objective manner, as the profiles shortlisted are of the top-rated profiles at oladoc.
Disclaimer: The contents of this article are intended to raise awareness about common health issues and should not be viewed as sound medical advice for your specific condition. You should always consult with a licensed medical practitioner prior to following any suggestions outlined in this article or adopting any treatment protocol based on the contents of this article.