Pulmonology is the branch of medicine devoted to the study, treatment and prevention of respiratory disease affecting the lungs and the bronchial tree. Furthermore, the diseases of respiratory system cause disruption in the rest of the body as well. These ailments come under the domain of the specialist doctors, the pulmonologists.
Pulmonologists, after obtaining a general medical degree, must take specialized studies in internal medicine and later in pulmonology. Pulmonology covers the medical aspects of respiratory diseases, while the surgical part is in charge of the chest surgeons. They are qualified to treat children and adults alike.
They are involved in the process of the diagnosis of the issues and therefore perform tests like bronchoscopy, X-ray, CT scans to identify the underlying. They then treat the issue and help patients manage it better.
Furthermore, there are many diseases like pulmonary vascular disease which can propagate from the lungs to the rest of the body as well. In such instances, the pulmonologist has to work in conjunction with other doctors like cardiologists.
Common symptoms that are indicative of an issue with the respiratory system include having issues inhaling and exhaling, not being able to carry out any physical activity because of not being able to breathe properly, losing weight without any explanation, coughing all the time. People who smoke are especially at risk of having respiratory complications.
Pulmonologists are also very important for people having chronic respiratory issues or those suffering from incurable diseases like asthma, cystic fibrosis. Other diseases treated by pulmonologists include bronchitis, emphysema, lung cancer, tuberculosis, chronic obstructive pulmonary disease (COPD) etc.
They also treat issues with sleeping caused due to breathing, like obstructive sleep apnea. Such patients are not able to breathe when sleeping and therefore suffer from sleep apnea. Moreover, they also treat viral problems like corona virus, pneumonia etc.
Therefore, if you are experiencing respiratory issues and need a good doctor, look no further. Below are the top 5 pulmonologists in Karachi based on internet search by users in Karachi.
1- Dr. Naseem Ahmed
With 7 years of experience in the field of pulmonology, Dr. Naseem Ahmed holds a degree in MBBS and a FCPS in pulmonology. He has an experience of treating a wide range of diseases and is currently providing his services to the patients in Karachi. With the passion in the field of pulmonology, he is currently practicing at The Kidney Center, Medicare Cardiac & General Hospital, Dr. Ziauddin Hospital, and Hashmanis Hospital.
2- Dr. Syed Zafaryab Hussain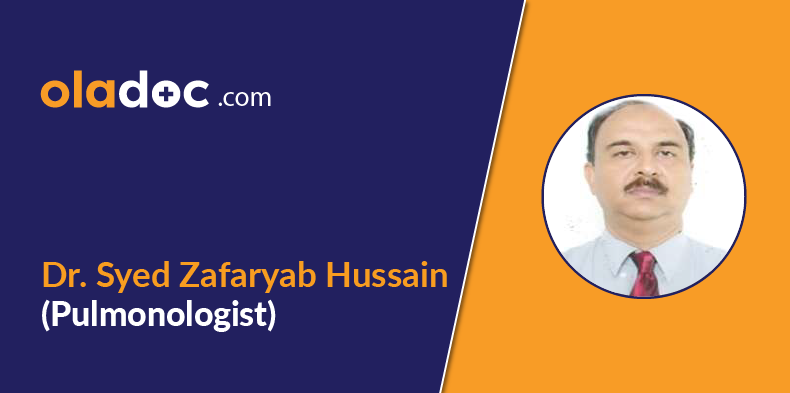 Dr. Syed Zafaryab Hussain is one of top 5 pulmonologists in Karachi. His effective decision making and good organisational ability makes him one of the best in his field. He holds the degrees of MBBS, DTCD and MCPS. He is currently practicing at Murshid Hospital, Darul Sehat Hospital, and Murshid Hospital & Care Center.
3- Dr. Muhammad Zaheer
Dr. Muhammad Zaheer is one of the best pulmonologists with degrees in MBBS and MCPS. Having years of experience dealing with a wide range of pulmonology related diseases, he is providing his services at Hashmanis Hospital in Karachi.
4- Dr. Waqas Rasheed
Dr. Rasheed is an MCPS and FCPS qualified surgeon with years of experience dealing with a wide range of pulmonology related diseases. His calm resilience, effective management skills and the ability to work under pressure are his best strengths and have made him amongst the top 5 pulmonologists in Karachi. He is currently practicing at Karachi Medical Complex in Karachi.
5- Dr. Nadeem Asad
Dr. Nadeem Asad has been providing his competitive services as a pulmonologist for the past several years. He is an FCPS qualified pulmonologist. His excellent communication skills to deal with a wide variety of patients and their families and his remarkable decision making makes him one of the best in his field. He currently practices in Medicentre Hospital, Karachi.
Breathing is the way the body gets all its oxygen from, the fuel that keeps the body running. Any compromise in this has ramifications for the entire body. When there is less energy source in the body, it goes in the conservation mode which disallows people from functioning normally.
Furthermore, many respiratory diseases completely debilitate the person. Many a times they need to be put on oxygen support as the normal functioning is severely compromised. The situation is much worse for smokers who already have limited the functionality in their lungs.
Moreover, the diseases of the respirating system are very painful. The body engages in this activity all the time and any issues therefore persistently nag people. Fits of coughing, wheezing etc. are common amongst people suffering from these issues.
Hence it is very important to have a competent pulmonologist on board if you or your loved one is suffering from respiratory diseases or are experiencing symptoms that might be indicative of the disease. To facilitate you in this decision, you can find whomever you think qualifies as the best pulmonologist in Karachi, Lahore and Islamabad through oladoc.com.
You can review the doctor's profiles and search for a Specialist by Locality and Gender as well. In addition, you can check for the surgeon's practice locations, schedules and even book an appointment online. You can also call our helpline at 042-3890-0939 for assistance to find the RIGHT Doctor for your health concerns.
Please note that the list above has been compiled with complete objectivity as the profiles selected are amongst the top rate profiles at Oladoc.
Disclaimer: The contents of this article are intended to raise awareness about common health issues and should not be viewed as sound medical advice for your specific condition. You should always consult with a licensed medical practitioner prior to following any suggestions outlined in this article or adopting any treatment protocol based on the contents of this article.