Pulmonologists are doctors who are specialized to deal with lung disorders. They treat acute and chronic lung conditions, and chest diseases such as COPD, asthma, bronchiectasis and respiratory infections. Pulmonology is a subspecialty of medicine and needs extensive training. If you are in search of a top pulmonologist in Multan then below we have enlisted the top 5 pulmonologists in Multan based on internet search by users.
Chronic lung conditions, such as those faced due to smoking often require plenty of diagnostic tests like spirometry and bronchoscopy. Pulmonology can also involve the care of patients that need mechanical ventilation and life support.
A few typical respiratory diseases that pulmonologists around the world treat include Bronchitis, Asthma, Emphysema, sleep apnea, interstitial lung diseases, occupational lung diseases among others.
Who Is A Top Pulmonologist? A Snapshot
Pulmonologists are broadly concerned with internal medicine which means they are well-versed in dermatological and neurological issues as well. They are trained to handle infections, inflammations and tumor-related concerns of the respiratory system.
The main task that a pulmonology specialist carries out is diagnosing issues related to respiration. Also, because they are not surgeons, they work with other specialists in surgeries by nailing-down the issue through various tests.
Treatment for Pulmonology-related disease usually includes prescription medicine either in tablet form or as an inhaler. Pulmonologists also suggest preventive measures and ways to manage the disease. They also advise oxygen pumps or machines in extreme cases of chronic patients.
Common respiratory issues that pulmonologists deal with include Bronchitis, Occupational Lung diseases, asthma, and Emphysema among others.
Even though Pulmonologists are not surgeons, they can conduct various examinations in order to diagnose diseases.
These tests include Chest Ultrasound which is for examining the body parts in the chest; CT scan which is an imaging test that provides an in-depth view of the bones, muscles, and blood vessels; Bronchoscopy which helps to diagnose issues in throat, airways, and trachea; sleep study which is used to examine sleep issues.
Pulmonologists often perform surgical procedures in collaboration with other doctors.
Some of these include the following: transplantation; this includes the replacement of a rotten lung with a healthy one, Lobectomy; this entails the removal of the lobes of the lungs, Thoracentesis; this constitutes removing fluids and/or air from the surrounding of the lungs, and others.
As was mentioned earlier, pulmonologists do not perform surgery. However, they do assist other specialist surgeons in their work. They usually collaborate with Cardiothoracic surgeons, Radiologists, General Physicians, and critical care professionals.
Now, we move to the list of the top 5 pulmonologists in Multan and see where you can locate them.
1- Dr. Muhammad Atiq Ul Mannan
Dr. Muhammad Atiq Ul Mannan has extensive experience in the field of pulmonology. He is an MBBS, M.D (USA), DTCD, FCPS (Pulmonology). He is a competent professional, and specialized Pulmonologist. He deals compassionately with his patients, and can be reached through oladoc.com for an appointment at Alshifa Clinic, Multan.
2- Dr. Muqarrab Hussain Kamran
Dr. Muqarrab Hussain Kamran is another big name in pulmonology in Multan. He has done MBBS and FCPS from Nishtar Hospital in 2012 and has 13 years of experience. He is a professional member of Pakistan Medical & Dental Council (PMDC) and currently practices at City Hospital, Multan.
3- Assist. Prof. Sufyan Saleem Safdar
Assist. Prof. Sufyan Saleem Safdar is one of the best pulmonologists in Multan. He holds the degrees of MBBS and FCPS and specializes in pulmonology. He has vast experience of 14 years in his field. He currently works at Medicare Hospital, Multan and can be reached through oladoc.com!
4- Dr. Muhammad Wajahat Tariq
Dr. Muhammad Wajahat Tariq is one of the best pulmonologists in Multan. He has done MBBS, FCPS and has 12 years of experience in pulmonology. He offers a vast range of services include; Drainage of Pleural Effusion Via CV Pline and Easydrain, Chest Intubation for Pneumothorax, Invasive and Non Invasive Diagnostic Modalities For TB, BronchoAlveolar Lavage and Bronchoscopic Biopies and Sleep Studies. He practices at Multan Chest Clinic.
5- Dr. Muhammad Tayyab Ahmad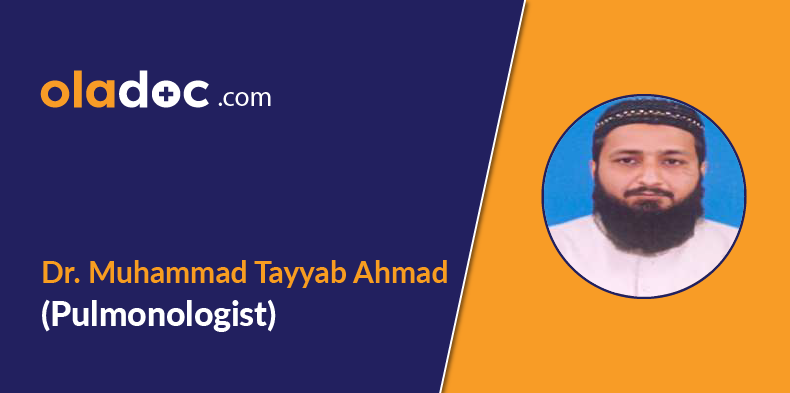 Dr. Muhammad Tayyab Ahmad is one of the finest pulmonologists practising in Multan. He completed his M.B.B.S from Nishter Medical College, Multan in 1998 and has done D.T.C.D (Pulmo) from Nishter Medical College, Multan in 2001. He has 18 years of experience and currently practising at two famous hospitals Bakhtawar Amin Hospital and Chest Care Clinic, Multan.
When Should You See A Pulmonologist?
Seeking help from a Pulmonologist might become a necessity if your issues aren't resolved from consultation with a general physician.
The common reasons to consult with a pulmonologist include breathing difficulties; chronic cough; lung cancer; coughing up of blood; asthma and others.
More serious conditions should prompt an appointment with a specialist. These include, but are not limited to Bronchitis, excessive fluid in the lungs, and Cystic Fibrosis among other diseases.
You can find and book an appointment with the best pulmonologist in Multan, Karachi, and Lahore through oladoc.com. You can also call our helpline at 042-3890-0939 for assistance to find the RIGHT Doctor for your health concerns.
For your knowledge, this list of the top 5 pulmonologists in Multan was compiled in an unbiased manner and in line with the ratings they received.
Disclaimer: The contents of this article are intended to raise awareness about common health issues and should not be viewed as sound medical advice for your specific condition. You should always consult with a licensed medical practitioner prior to following any suggestions outlined in this article or adopting any treatment protocol based on the contents of this article.